Struggling to sell your home? Did you think the offers would be rolling in by now? Are you wondering what's wrong with your property? Don't panic! We know that selling a home can be challenging, but we're here to help. We'll tell you why your house isn't selling and what you can do to fix it.
5 Reasons Why Your House Might Not Be Selling
Are you scratching your head and asking yourself, "Why isn't my house selling?" It's good to know that there could be one or a few things holding back a sale. We'll break down what might be happening.
1. The Listing Price Is Too High
The most common reason your home might be sitting on the market is its price is too high. You probably chose an asking rate by looking at comparable sales in your neighborhood. The real estate market moves fast, so even if your asking price started as fair, it could quickly become overpriced due to market fluctuations.
Even during a hot market, pricing your home too aggressively high can cause people to overlook it. If you price it at market value, it can often lead to bidding wars – which is what you want!
Solution: Drop The Price
If your home has been on the market for several weeks without progress, it's time to drop the price. If buyers see that your home has been sitting on the market for an extended period, they might think something is wrong with it and get turned off. It's crucial that you keep people interested.
If you're unwilling to drop your price, sometimes offering concessions can sweeten the deal. Seller concessions are closing costs the seller agrees to pay for the buyer.
2. You Have Poor Marketing
In today's world, marketing is everything! Prospective buyers are constantly scrolling on Zillow.com and will almost always view your property online before seeing it in person. This is why you must ensure your listing is up to date and tip-top.
Solution: Clean Up Your Listing
Make sure that your listing description is complete and accurate. Always showcase the home's best assets – number of bedrooms, bathrooms, outdoor space, garage, basement, location, etc.
Some buyers care more about the photos than the description, so you need to have aesthetically pleasing photography. Make sure to take the pictures during good weather so the images are bright and inviting. Also, tidy up the home first. It can be challenging for people to envision themselves living in a clutter-filled home.
3. There's Too Much Competition
High home demand and low inventory will trigger a sense of urgency, causing people to bid higher. But if lots of similar properties are selling in one area, buyers won't be as concerned about being the first to put in an offer or give the highest number.
The less competition there is, the more likely buyers will have interest and not necessarily care as much about little details they don't like about the home. They just want to get their offer locked in and secure a house.
Solution: Hold Off If You Can
The solution is simple – pay attention to your local real estate market and if multiple homes in your neighborhood have gone up for sale, hold off on listing yours. You won't be able to command the attention that you're seeking.
If your home is already listed or you have no choice but to deal with competition, you might want to drop your price below market value. It will lure buyers away from the other homes and highlight yours as a rare deal.
4. Your Agent Isn't Performing
Choosing a real estate agent is an important decision. Rather than ending up with the first person you come into contact with or choosing a family friend, opt for an experienced agent who comes with references.
Also, it's best to hire a real estate agent who works full time and has the time to prioritize your home. So many people take up real estate as a side hustle, but you want your future to be in the hands of someone who knows how important and fast-paced this business is.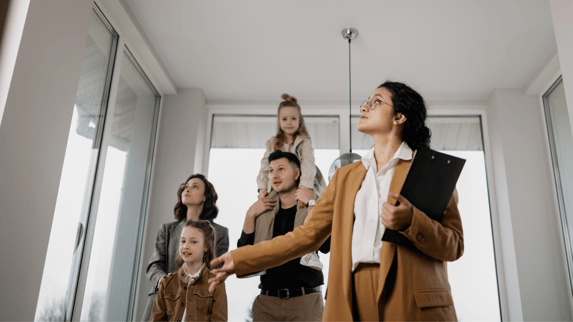 Solution:
End It or Wait It Out
If the partnership with your agent isn't working out, sometimes the brokerage will agree to break the contract early. If you've had significant issues with your agent, be ready to back up your claim factually.
If you signed a contract and have to wait it out, do the best you can. Perhaps some of the issues are an easy fix, or there was just a lack of communication.
Are you in the early stages of thinking about selling your home? Hire the best real estate agent you can before you get started! Here at BlueWest Properties, we're a team of dedicated Realtors, and we pride ourselves on creating a seamless process from start to finish. Our motto is "it's all about you," and our purpose is to provide you with honest advice and high-quality service.
5. Your Yard Sign is Low-Quality
Sure, many prospective buyers are searching online to find their dream home. That doesn't take away from your yard's traditional "For Sale" sign.
If someone is looking to buy a house, they're always on the lookout, so it's crucial to catch their eye positively. When they see the sign, if it's old or weathered down, people will think your house is too.
Solution:
Make Your Yard Sign a Priority
Always make sure the sign is in good condition and looks brand-new. Also, ensure that it has all the necessary information on it. Include a phone number, website address, and agency. The home's address can be helpful too!
Remember that you don't want to offer too much information on the sign. It can come across like you're trying too hard. A helpful alternative is offering flyers next to the sign so that people can take a closer look if they're interested.
BlueWest Properties Is Here To Help!
Struggling to sell your home for what it's worth? You may benefit from working with a trusted, knowledgeable real estate agent. At BlueWest Properties, our agents have experience selling all kinds of homes, and we can help create a strategy to sell yours for a price you're happy with. For more information, contact our team online.